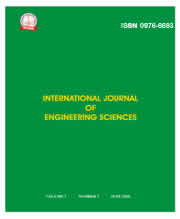 International Journal of Engineering Sciences
General Information
ISSN: 0976-6693
Publisher : SPJ Centre for Multidisciplinary Research
Membership: CrossRef
Impact factor: 0.89 ICV = 98.26 IBI Factor: 2.9
Editor-in-Chief
Prof. Len Gelman
The University of Huddersfield,
Queensgate, Huddersfield, HD1 3DH, UK
Email : l.gelman@hud.ac.uk


Contact Information
Editorial Office: 901, B12, Little Earth Masulkar City, Kiwale, Pune - 412101
Email: secretary@scmrglobal.org
Frequency
Frequency : 4 issues per year
Issues per Volume: 4
Current Volume: 13th
Time to complete the initial review: Approximately two months
Subscription
For subscription or reprints,
please contact secretary@scmrglobal.org
info@scmrglobal.org
Aim and Scope : The Aim of the journal is to publish original research work of the researchers and disseminate the knowledge. The research papers from any discipline of engineering like Computer engineering and Informatics, Electrical and Electronics engineering, Mechanical and Production engineering, Civil and Structural engineering, Aerospace engineering, Metallurgy and Materials engineering, etc. are welcome for publication. The papers on application of engineering sciences to other disciplines like Bioinformatics and Bioengineering, medical sciences, etc. will also be accepted for publication. They will be placed in the closest engineering discipline. A single issue of the journal will normally cover two to three disciplines.
1. Authors need to refer Guide for authorsand Publication Ethics and Malpractice Statementavailable on the journal homepage before preparation and submission of their manuscript for the journal.The submitted manuscript will go through a process of double blind review by three reviewers before decision about its publication in the journal.

2. The journal does not charge any publication or processing fee from authorsupto six pages, after which a fee of USD 30 per page is applicable for the additional pages.

3. Copyright and Access: Authors will need to submit a signed Copyright Transfer Formand Authors' Contribution and Declaration Form to the publisher, which they can download from the journal website. All the published papers are available for download from the journal website for authors for free of charge. The other users can also download papers from the journal website for free of charge. But, they need to give reference of the source, when using papers downloaded from the journal website for academic and research purposes and not for commercial purposes. They can obtain a reprint of any published paper by paying a very nominal amount.

4. Archiving: Due to large volume of published papers increasing continuously, full papers from recent few published issues only are available for download from journal website. For other published issues only abstracts with bibliographic details will be available on Archive page of the journal website. Full published issues will be available in the library of Editorial office in hard copy as well as softcopy forms on digital resources. Those published full papers can be obtained from secretary@scmrglobal.org at any time. Softcopies of papers will be sent free of charge by Email. But, hardcopy reprints will be available at a nominal printing and postage charges only communicated by Secretary, SCMR.

5. Privacy Statement: Contact information (Names, Address, Email IDs etc.) available on this website will be used exclusively for the stated purposes of the journal. This will not be given to any third party for any other purpose.